Wine Bar Chocolates
Premium wine, delicious cocktails and couverture chocolate, come together to create these stunning WineBar Chocolates.
Subtle, smooth alcohol infusions delicately combined with tempered chocolate will challenge your senses, making it impossible for you to have just one. That's how good chocolate should be, right? You need another bite.
Serious about wine - crazy about chocolate!
Includes free freight for 4 bars or more. Free express freight for the Winebar 6 pack and Cocktail 6 pack ~
shop the range now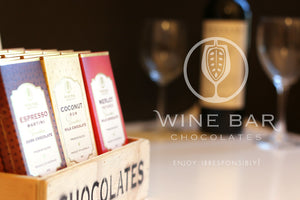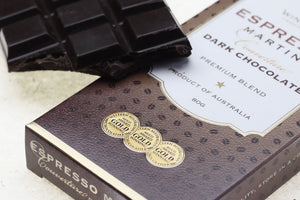 Award Winning Chocolatier
Every Wine Bar is meticulously made by hand in our multi-award winning chocolate factory in Fremantle, Western Australia.
COCKTAIL BARS | The first layer of couverture chocolate is carefully poured into a special mould and cooled to set. Adding a layer of silky smooth ganache, infused with premium, locally sourced ingredients, the final layer of couverture chocolate is poured to complete each bar.
WINE BARS | The finest, all natural, base ingredients are combined and blended by hand at the perfect temperature, delicately adding our premium wine infused formulation. The outcome is a unique, mouth-watering, couverture chocolate.
buy from the range ...