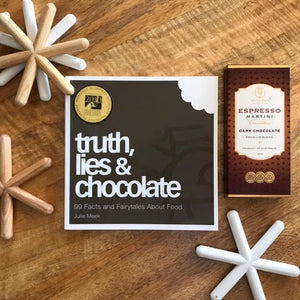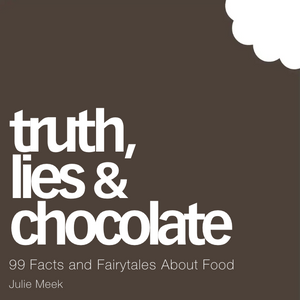 Truth, Lies and Chocolate - Book + Chocolate Bar Gift Pack
Book + Espresso Martini Bar - Gift Pack
"Truth, lies & chocolate"  by Australian nutrition guru Julie Meek, is the perfect gift for friends, family or yourself. 
It contains 99 Facts and Fairytales about food and will help you discover:
How to avoid the usual 2-3kg festive weight gain
How to achieve better health in 2020
How to get your energy high and keep it there
Tips for getting the most from food you eat, whether you are an athlete, a Mum, a corporate executive or Joe Bloggs.
It's always a good time to find out that chocolate and red wine are a treat for your body too! 
Truth, Lies & Chocolate is illustrated by renowned West Australian artist Natalee Poli.
Julie Meek - "Imagine this paired with a super delicious WINEBAR Couverture Espresso Martini dark chocolate. 
I can personally recommend this combination which ticks all the boxes you would ever want to tick!  Let's face it, chocolate really should be one of the food groups.
This delightful gift-wrapped combination is the perfect present for friends, family or even yourself for just $29.95"